By Jo McNeice and Sarah Scott
Untitled
the night blooms like ink in water,
a bursting blood vessel,
it blooms like the desert after rain
She thinks the distance & difference
between the stars & us
is not as great as we think
& though the sugar is tainted with lead
she fluffs the pillow & goes to bed
Woman at a Window
I look out to look in.
Tonight is bluebells walking on water.
The air is lust breaking on earth.
Beside me, your hand
‒picked lily is an inlet.
At the edge, two tiny leaves fall.
I am the kid who gallops the field
under the stars which are as great as we can feel.
I run with silverfish to the clink of night.
Inside, the bulb
of lily unearths me,
holding the lead to the light.
I am looking through the fabric beyond measure.
A window, that could let you in.
---
The Process
Jo says, "It's been a wonderful gift to be matched with Sarah, who I can't thank enough for giving one of my poems a home in public. It has been great motivation to get back into writing semi-formed poems, rather than just scratching a few lines on stray bits of paper. And it has been very flattering to have someone so talented as Sarah say kind things about my work. Admittedly, before we started I was a little nervous about how it would go, what if I couldn't produce anything? But in the end there was no pressure, just motivation, and I feel a great connection. Thank you so much Writers Practice for the match!"
Sarah says, "Collaborating with the wonderful poet Jo McNeice on our pieces about Florence Harrison's illustrations was a joyful and productive writing experience. I'm so lucky to have been paired with Jo, she's ridiculously talented and lovely and I hope we will continue to collaborate after this as well! We decided to both write poems about a piece of art, as we're both really interested in ekphrastic poetry. Part of the process is that I ended up writing about something I wouldn't have discovered on my own, and that was liberating, especially since I knew that Jo would read it, and I would read hers. So it's like these works are created for sharing, and I love that – it makes it heaps more fun!"
---
About the Authors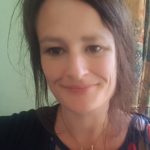 Jo McNeice
Jo McNeice has a Masters in Creative Writing from Te Pūtahi Tuhi Auaha o Te Ao , Te Herenga Waka/International Institute of Modern Letters, Victoria University of Wellington.  Her poems have previously been published in Turbine/Kapohau, Sport and JAAM.  She lives in Auckland but her heart belongs in Wellington.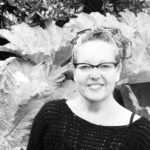 Sarah Scott
Sarah Scott was the recent winner of the Divine Muses New Voices: Emerging Poets Prize. She has an MA with Distinction in Creative Writing from  Te Pūtahi Tuhi Auaha o Te Ao , Te Herenga Waka/International Institute of Modern Letters, Victoria University of Wellington and her poems have been shortlisted for the Caselberg Poetry Prize and published in New Zealand journals such as Landfall, Turbine|Kapohau, Up Country and the anthology Fresh Ink. She read new poems at this year's Verb Festival and is currently curating a poetry series in the lightbox at Thistle Hall in Wellington. She lives in Te Whanganui-a-Tara with her partner and two sons.